Experts en solutions de traitement des déchets
Augmentez votre productivité et préparez vos déchets pour le recyclage
Trouvez votre processus
Prise en charge des processus suivants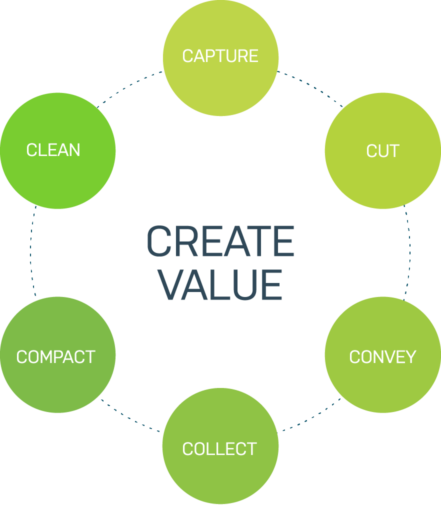 Traiter
Vos déchets
Se soucier de l'environnement et de votre rentabilité 
Lundberg Tech s'est inspiré des Objectifs de développement durable (ODD) des Nations Unies et nous sommes en cours de les intégrer dans nos activités quotidiennes. Nous sommes d'avis que notre planète est soumise à de graves excès et les responsabilités sociales ne peuvent être négligées.
Le processus d'une transformation respectueuse de l'environnement commence par nous-mêmes, ce qui signifie qu'une production responsable, une réduction de notre consommation, un recyclage accru et de meilleures conditions font partie des objectifs de Lundberg Tech.
Pourquoi choisir
Lundberg Tech
Nos systèmes de traitement des déchets permettent une production continue
Lundberg Tech peut prendre en charge les déchets de presque tous les types de machines de production et d'emballage. Nous avons plus de 40 ans d'expérience dans l'industrie et sommes animés par une passion pour le traitement des déchets. Nous nous concentrons sur l'augmentation de votre productivité, tout en soutenant le développement durable et l'économie circulaire.
Long Standing Partnerships with
Global Brands
The Lundberg Tech system has provided us with so many advantages to our old system and everyone here absolutely loves it.
Art Simpson, President
Navistar Direct Marketing
We realised that the WasteTech ACE Unit is the optimal choice for our application. The dust and side trims are captured by vacuum right at the converting machines, cut into small pieces and collected in a transport container. It is a compact solution that takes up little floor space – and the automatic air filter concept is unique.
Michel Becker, Managing Director
NEUBRONNER GmbH & Co. KG
We continuously improve our systems and processes with great focus on enhancing productivity, increasing efficiency, reducing waste and ensuring our processes stay lean.
Michael Löscher, Maintenance Manager
Mondi Korneuburg GmbH
Nous sommes
Lundberg Tech
Lundberg Tech, créé en 1946, est une entreprise privée danoise située aux environs de Copenhague.
Dès ses débuts, Lundberg Tech a travaillé avec le développement, la fabrication et les services sur mesure pour ses clients, ce qui a conduit l'entreprise vers la gestion des déchets au début des années 1980.
Sur la base de cette expérience, Lundberg Tech a développé son propre concept unique dans le domaine de la gestion par aspiration des déchets. Lundberg Tech développe et fabrique entre autres ses propres Granulateurs et coupeurs rotatifs.
Lire la suite