When it comes to edge trim removal, Lundberg Tech's Vacuum Waste Handling systems excel as a highly efficient and versatile solution. These systems offer numerous advantages over traditional Venturi systems, making them the preferred choice for businesses seeking optimal and clog free trim handling solutions.
One of the key benefits of Lundberg Tech's Vacuum Waste Handling systems is their ability to use smaller fans, resulting in significantly reduced power consumption, which translates into cost savings for your operation. Moreover, while Venturi systems may generate endless trims that can be very bulky when collected, Lundberg Tech's approach improves the overall trim handling.
Our vacuum waste handling systems are equipped with in-line Granulators that efficiently cut the endless trims into small, manageable pieces. This process ensures that trim pieces are easily transported over long distances and, when collected, are notably less bulky. This approach allows you to bypass the challenges associated with Venturi systems collecting endless trims in open bins or cages, offering a more streamlined and space-efficient solution for edge trim handling in your production process.
What's more, with cut trims, Lundberg Tech can easily design a system that is clog-free. This feature ensures uninterrupted and smooth trim handling, preventing blockages that can disrupt your production process.
Additionally, Lundberg Tech's Vacuum Waste Handling systems require only one main fan, which can be strategically positioned away from the production area. This not only reduces noise levels within the workspace but also frees up valuable floor space in the production area, compared to Venturi systems where you typically have one fan at each production machine. Making your facility more organised and efficient. This advantage is particularly valuable for businesses seeking to optimise their production environments without compromising on performance.
In summary, Lundberg Tech's Vacuum Waste Handling systems provide a comprehensive solution for trim handling that surpasses Venturi systems. The combination of smaller, energy-efficient fans, clog-free design, and the use of in-line Granulators to cut endless trims into manageable pieces offers superior efficiency, reduced power consumption, and space optimisation. This approach ensures a more efficient and cost-effective solution for your trim handling needs, ultimately enhancing your production process without the headaches typically associated with Venturi systems.
If you are interested in the latest news. Sign up to our newsletter and stay informed!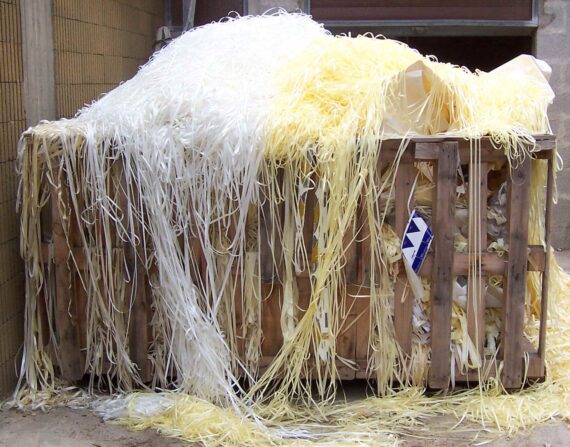 Long Standing Partnerships with
Global Brands
"We are saving approx EUR 200,000 per year with a Central System from Lundberg Tech".
Alessio Fanchin, Area Manager
Rifa Etichette