Your flat or blown film extrusion lines are most likely operating 24/7 and therefore automated waste handling is necessary. The objective of the waste handling system is to support the effectiveness of the extrusion process as well as to handle the trim waste in spite of the web width and type of material extruded.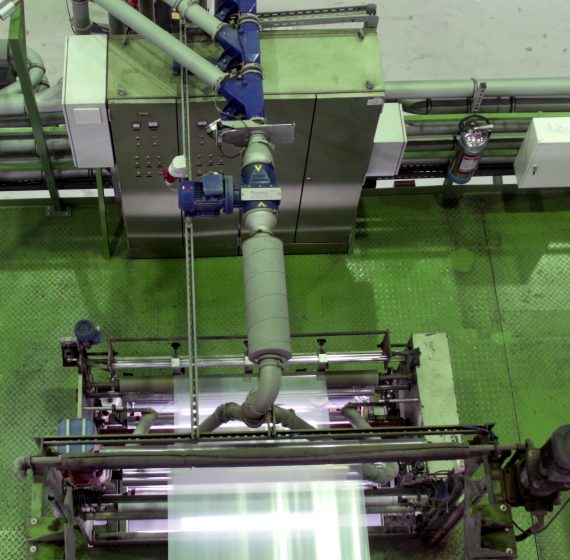 Benefits & features
At Lundberg Tech we deliver automated waste handling systems. These systems can capture and extract the edge trim waste. At the same time the systems cut the waste into small pieces and bring it to a given position at any distance, which means:
The volume of waste will be reduced more than ten times

The size of the waste makes the possibility of recycling easier 

A clean environment is kept as dust is exhausted together with the trims

The systems can include separation into different types of films, also that the waste is converted into pellets
The waste handling system is always ready to operate
Over the years Lundberg Tech has installed a number of waste handling systems for extrusion of among others PE, HDPE, OPP films and multiple layer film. These systems have proven that by no means waste handling is the bottleneck in the film extrusions.
Commonly, operating 24/7 in the extrusion demands a highly automated and self-operating Central System. Lundberg Tech has the ability to design and install such a Central System covering multiple number of extrusion lines.
If waste from only one film extrusion line or a limited number of extrusion lines must be handled the Lundberg Tech All-in-one Units are a great alternative.
Both the Lundberg Tech designed Central Systems and All-in-one Units are equipped with our own developed and manufactured Granulator. The Granulator can cut film regardless of thickness, down to 8 microns and with a width up to 660mm.