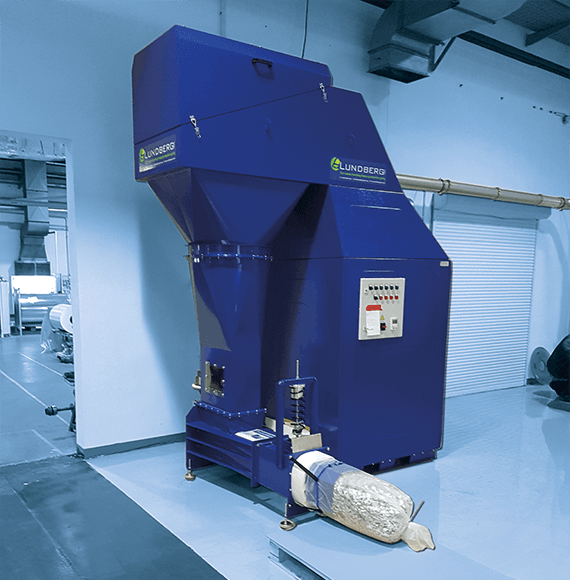 TrimCompactor – the

obvious choice
In an excellent way the Lundberg Tech TrimCompactor Unit combines the ability to capture, convey, cut, collect and compact waste from a wide range of production and packaging machines generating waste like edge trim, skeleton, matrix and die cuts.
The TrimCompactor is the obvious All-in-one Unit choice when it comes to supporting sustainability and circular economy in your production or packaging process.
The TrimCompactor can handle waste from one or more machines. Upon demand it can be equipped with one or more of the Lundberg Tech own designed and manufactured Granulators.
Benefits & features
Benefits and advantages using the TrimCompactor:
Reduces the volume of waste 

Removes the dust along with the waste

Frequency converter for adjusting the suction power 

Makes waste handling easy for your staff
Easy installation
Supporting continuous operation
Compacting the waste in a TubeBag easy to remove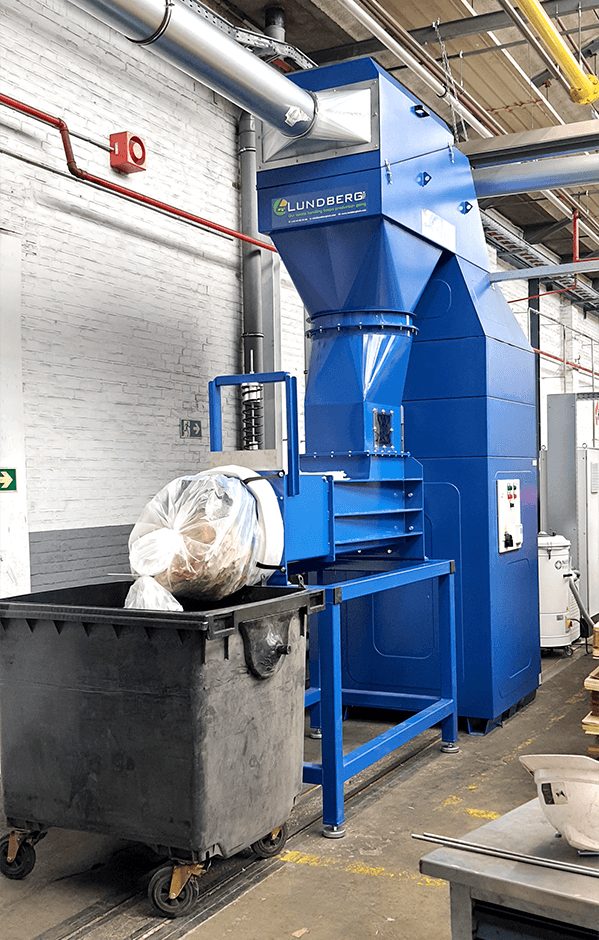 The TrimCompactor All-in-one Unit is a complete unit equipped with ventilator, sound silencers, waste separator, air filter and compactor. By combining all these necessities for an effective waste handling the unit do have a limited footprint and can be located up to 20m from the machine(s) the unit is serving.
The TrimCompactor All-in-one Unit is available in five different sizes:
TrimCompactor 80 – 1 process machine
TrimCompactor 140 – up to 4 process machines
TrimCompactor 200 – up to 8 process machines
TrimCompactor 400 – up to 16 process machines
TrimCompactor 600 – up to 24 process machines
The TrimCompactor can be delivered with more options like:
Antistatic bars for removal of static electricity from the material processed
Other types of filter systems, including automatic self-cleaning filter
More Granulators with all Granulators outside the cabinet
Table to support the unit for delivering the compacted waste into a wheel bin
The TrimCompactor is a very special unit which can also help you prepare your waste for recycling and deliver the compacted waste in a "sausage" in the length you desire.