Customised to your waste handling needs
In our Project Department we design central waste handling systems tailored specifically to your needs. A central waste handling system can ensure central collection of waste from an unlimited number of machines in your production, allowing an efficient and continuous production.
In a Central System the waste is very often transported to one or more collection points outside your building, allowing for easy removal of the waste and ensuring your factory floor space can be used for production machines rather than waste and bins. A Central System can also be designed with recycling in mind, so that the waste generated at a machine is directed to a specific collection point – helping your company to produce more sustainable.
Benefits & features
Installation of a central waste handling system gives several benefits, among others:
Benefits
Increased machine speed as waste is no limitation
Reduced downtime as waste handling is always ready and does not require any machine stops
No heavy lifting by personnel in the handling of waste material
Reduced manpower for handling of waste bins
No dust around the machines as the created dust is conveyed by the vacuum system
More benefits
Reduced use of valuable indoor space for waste storage
Cost savings for transport and disposal, as the cut material compacts well
Improved recycling possibilities
Reduced volume of waste – energy savings
The design of a Central System typically starts by analysing the overall need for waste handling in your facility, e.g. number and placement of machines, amount and types of material and machine speeds. Once we have gathered the information needed, we can make a proposal for a bespoke waste collection system for your facility. Don´t worry if you do not have all the above information. We very likely have experience from a similar production like yours and can guide you to an optimal solution for your waste handling needs.

The possibilities with a central waste handling system are almost unlimited, and we can handle anything from a high-speed edge trim to wide and sticky self-adhesive matrix waste.
Contact us today if you are interested to learn how a central waste handling system can keep your production going.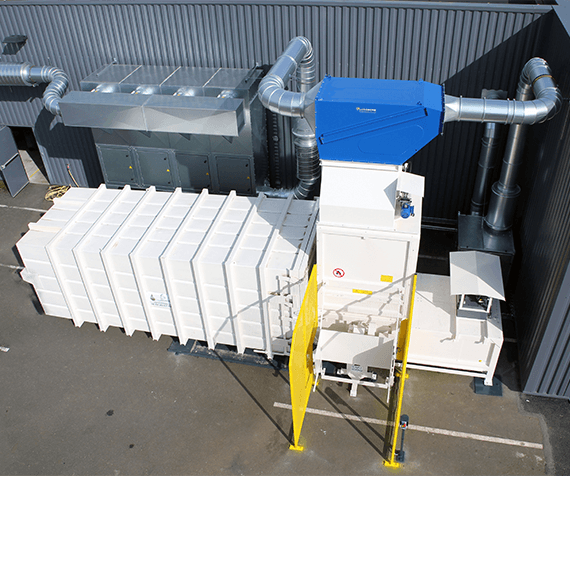 Download more information
Lundberg Tech develops and manufactures a range of...
Granulators/Cutters, All-in-one Units and Central Systems