Experts in waste handling solutions
Increase Productivity and Prepare Your Waste for Recycling
Find your process
Supporting the Following Processes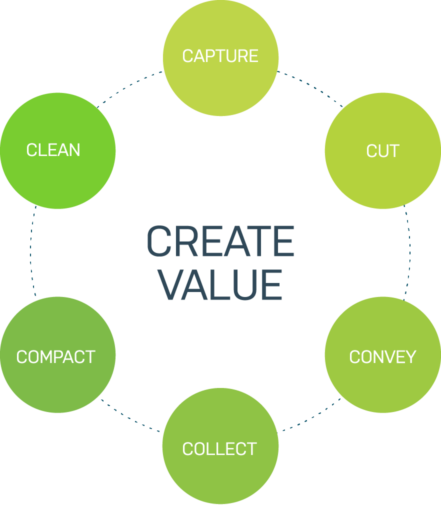 Working with
Your Waste
Care for the environment & bottom line
Lundberg Tech is inspired by the UN Sustainable Development Goals (SDGs), and we are in the process of integrating these in our daily business as the planet is under severe strain and social responsibilities cannot be neglected.
The green transformation process begins with ourselves – meaning that responsible production, reduction of our consumption, increased recycling and better conditions are part of Lundberg Tech's agenda.
Why Choose
Lundberg Tech
Our waste handling keeps production going
Lundberg Tech can take care of waste from almost any kind of production and packing machines. We have more than 40 years' experience in the waste handling industry, driven by a passion for waste handling and waste handling solutions. We focus on increasing your productivity, whilst supporting sustainability and circular economy.
Long Standing Partnerships with
Global Brands
The Lundberg Tech system has provided us with so many advantages to our old system and everyone here absolutely loves it.
Art Simpson, President
Navistar Direct Marketing
We realised that the WasteTech ACE Unit is the optimal choice for our application. The dust and side trims are captured by vacuum right at the converting machines, cut into small pieces and collected in a transport container. It is a compact solution that takes up little floor space – and the automatic air filter concept is unique.
Michel Becker, Managing Director
NEUBRONNER GmbH & Co. KG
We continuously improve our systems and processes with great focus on enhancing productivity, increasing efficiency, reducing waste and ensuring our processes stay lean.
Michael Löscher, Maintenance Manager
Mondi Korneuburg GmbH
We are
Lundberg Tech
Lundberg Tech was established in 1946 and is a Danish company situated in the outskirts of Copenhagen.
Right from the beginning, Lundberg Tech worked on customer-specified development, manufacturing and service solutions: In the beginning of the 1980s this brought the company to the subject of waste handling and own design and manufacture of Granulators and Cutters.
Lundberg Tech develops and manufactures our own unique Granulators and Cutters sold not only to own waste handling projects.
Read more