In your warehouse area you are getting bulk of material packed on pallets or in big bags. The waste packaging material, which most likely is some sort of plastic, paper or non-woven, is released by manual handling, by robots or debagging machines.
Your waste challenge could also be that you have big pieces of paper or plastic, which is used as layers between plates of different materials that must be protected. This is part of the unwrapping and debagging process.
You want to handle the waste packing material and big pieces of waste as few times as possible and want to remove it from the area where the waste is piling up.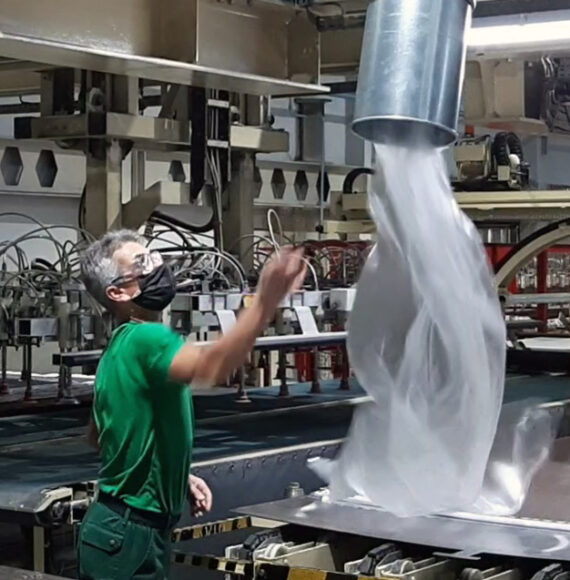 Benefits & features
In the Lundberg Tech range of products, you will find systems and components, which can take care of the waste handling and at the same time:
Capture and handle the waste at the place it is generated
Reduce the waste from big pieces to very small pieces
Minimise manual handling of waste
Eliminate internal transport of waste
It is possible to capture in many spots and collect in one unifying spot
As a result of many years of experience in transporting all kind of waste in pipe systems by air, Lundberg Tech has developed a WasteFlex Unit. This unit consists of a feeder and a Granulator. The feeder ensures that the material is entering the Granulator in a controlled speed and the Granulator is afterwards cutting the material into small pieces.
The WasteFlex Unit can be inserted in combination with our unique All-in-one Units which on a "plug and play" basis will be easy to install.
If there are many places at which the single big piece of waste material is generated, Lundberg Tech can design a customised Central System. The system will be fulfilling all requirements for the position of capturing points and one or more collection points if material separation is part of the demand.
A crucial part of the WasteFlex Unit is the Granulator. Lundberg Tech has more than 40 years of experience in designing and manufacturing Granulators for all materials and applications. The Lundberg Tech Granulator product range is very comprehensive both in terms of handling large sized waste and to cut the waste into small pieces.